Your Guide to Ensuring Quality PCB Electronic Manufacturing and Assembly
Most people have no idea how their electronic devices work. It is an entirely different story for designers, engineers, and OEMs. Experienced electronic manufacturers understand the ins and out of PCBs. That also means they know the importance of quality when it comes to printed circuit board assembly and manufacturing.
Quality should always be the top priority for PCB manufacturing and assembly. Knowing what to look for in an ECM will lead to an informed decision so you can partner with the perfect company to make the highest quality components for your products.
Domestic
Some OEMs consider outsourcing their printed circuit board assembly and manufacturing overseas to save money. But at what expense?
There is a risk international companies that do not have the same regulations as the U.S. will cut corners. Substandard or counterfeit components could be used in your build. This leads to PCB malfunctions and failures. Shipping can also be costly.
Working with a domestic manufacturer will reduce your overhead costs, shorten your production timeline, and enhance the quality of your products.

Supply Chain Management
There is more to supply chain management than ordering components and keeping track of them. A quality ECM will know exactly where your PCB parts are, where they have been, and what has happened to them in-between.
They will also track the availability and authenticity of parts. Top ECMs have a vetted supplier network. This guarantees supply chain integrity so only the highest quality parts will be used in your boards.
On-Site Engineers
An electronic contract manufacturer with an in-house design and engineering team will optimize your production process. This brings several more sets of eyes to the table to make sure your PCBs are built the way they should be.
In-house engineers have extensive experience and training in order to identify any concerns with your product or make suggestions that will enhance the production process.
Certifications
Top electronics manufacturers will hold certifications that prove they meet or exceed quality assurance and manufacturing standards. They should, at minimum, hold ISO and AS9100 certifications. Processes and records are audited both internally and by external reviewers in order to earn these designations.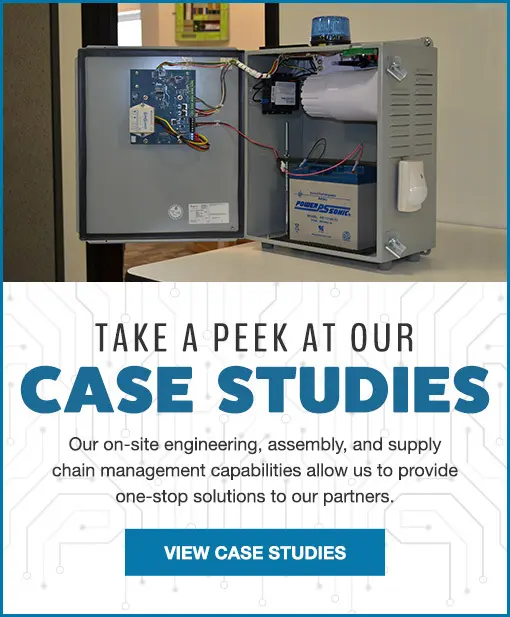 Turnkey Solutions
Your manufacturing partner should be able to handle more than just your printed circuit board assembly. An ECM with turnkey services can take your design and handle everything else as a single provider. They may also offer design services.
Turnkey solutions allow you to trust your manufacturing partner to handle your entire project so your staff can shift their focus elsewhere.
Testing and Quality Control
Your products should be rigorously tested before delivery. They should be carefully inspected in order to identify even the smallest issue that would affect your customers. Issues that are detected should be permanently corrected. The company you hire for printed circuit board assembly and manufacturing should pull out all of the stops to ensure the quality of your PCBs.
Detection and Avoidance of Counterfeit Parts
Your manufacturing partner must have a counterfeit electronic part detection and avoidance system in place. This can include independent testing of components along with visual inspections, x-ray, electrical tests, scanning acoustic microscopy, and decapsulation.
Quality counts in printed circuit board assembly and manufacturing. It means the difference between the great success of an end product and its complete failure. This is why you shouldn't trust your PCBs to just anyone.
Levison Enterprises works hard to guarantee quality. We can address any of your manufacturing needs, whether it's for components or final assembly. Our diverse experience proves we can bring your concept to reality. Contact us today for a free quote.
Start Your Quote Now!