Aerospace
Levison Enterprises has experience and the certifications you require in an aerospace electronics manufacturer.
PCBs are in every consumer electronics on the market, but with military and aerospace electronics, the need to have high-quality, reliable PCBs is not only important, but it's also critical. When looking for the right electronic assembly and manufacturing partner for military and aerospace electronics, consider Levison Enterprises for superior quality and reliable attention to detail that will meet the most rigorous standards.
An Aerospace Electronics Manufacturer With the Right Certifications
The certifications your electronic contract manufacturer (ECM) holds are an indicator of the technical capabilities they have and are the main indicator of compliance with all federal and industry regulations. Among the many certifications offered for various industries, Levison Enterprises carries AS9100 and ISO 9001 certifications by NSF-ISR as well as being ITAR registered, which make us uniquely qualified to tackle your military and aerospace projects.
ITAR compliance from the US Department of State controls the importing and exporting of sensitive defense-related materials. All employees complete ongoing training and certification to make sure we are up to date with the latest advancements in technology. When you work with a team carrying the right certifications, you can trust that all industry regulations, no matter how stringent, will be met.
Levison Enterprises is also working towards obtaining CMMC Level 3. We know how important it is for manufacturers to have the right processes and procedures in place. We already do many of the things required for CMMC, which is why Levison Enterprises is confident that working towards becoming a CMMC Level 3 partner will set us apart from other aerospace electronic manufacturers.
Military and Aerospace Electronic Services
The military and aerospace electronic services offered by Levison Enterprises include designs and builds, troubleshooting, and retrofitting new components for old components. Levison Enterprises will treat your project with the same commitment to quality regardless of the project's size or scope and we can serve both the public and private sectors.
We can even handle the packaging and shipping, decreasing your lead time and getting your components ready for use sooner. Our engineers have extensive experience in PCB assembly, through-hole maintenance and repair, and single and double-sided surface mounts.
Excellence in Experience and Capabilities for Your Aerospace Project
Levison Enterprises has a quality management system that places great emphasis on meeting the most rigorous specifications, mitigating risk, reporting and documenting, and vetting vendors and suppliers to reduce any risk of counterfeit parts. A turnkey electronic manufacturer will have a network of trusted suppliers, meaning you will not have to spend time and effort locating components and negotiating prices yourself. The parts Levison Enterprises will use will be readily available to arrive quickly as well as being thoroughly vetted to ensure there is no risk of counterfeit or substandard parts. Reliability in military and aerospace electronic services is a matter of safety – even a matter of life and death. Therefore, we understand the need for traceability, reporting, and the highest level of quality assurance.
When working in a mission-critical industry, experience is key. Levison Enterprises knows the stringent regulations, time sensitivity, and high commitment to excellence this industry demands, and our experience gives us a thorough understanding of the industry to provide a seamless transition from quote to delivery.
Troubleshooting Electronics in Aerospace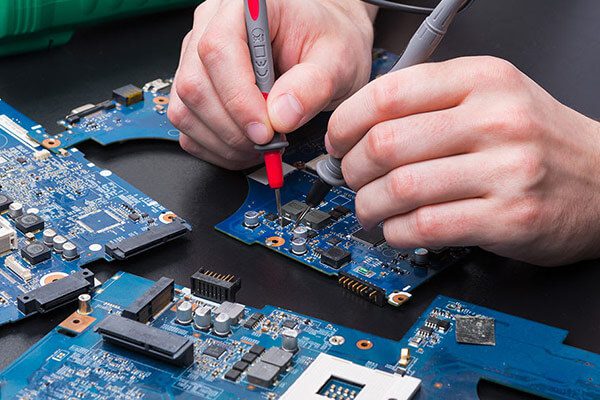 Levison Enterprises employs a team of in-house engineers and designers who can accommodate any needs you may have. These engineers and designers provide an extra set of eyes on your project, which can identify ways to streamline your production process for greater efficiency. During the design phase, your aerospace electronic project needs to be designed in a way that can skillfully simulate the real-world conditions your aerospace project will experience.
Retrofitting and Updating Old Technology
Cutting-edge technology is everywhere, but many companies are still making use of more dated equipment. This older technology can still function efficently but may need updating. This is where Levison Enterprises can step in. We can help save money on new equipment by retrofitting or reverse-engineering old or obsolete components. Reverse engineering capabilities are a big added benefit of our turnkey electronic assembly services, which is especially handy for aerospace parts obsolescence. Reverse engineering can be used to retrofit a new component or even fabricate a new part. Levison Enterprises can take your project and reverse engineer it to see what makes it work, and then update, duplicate, and/or correct any issues you are having. Our extensive experience in PCB reverse engineering, retrofitting, maintenance, and repair can help bring your dated equipment up to today's standards and ensure that it can still perform as you need it to.
The Advantages of a Turnkey Aerospace Electronics Manufacturer
Levison Enterprises can see your project through the entire process. This includes designing, prototyping, manufacture, testing, quality monitoring, cable and wire harness assembly, and full panel and enclosure assembly. Levison provides troubleshooting, a quick turnaround, and excellent communication throughout your aerospace project. By seeing your project through from beginning to end, nothing will fall through the cracks throughout the process.
Choosing a Domestic Aerospace Electronics Manufacturer for Military and Aerospace Electronic Services
Levison Enterprises will not only be able to handle your entire aerospace electronics project in house, but will do so with excellent communication, a thorough understanding of the security of information and non-disclosures required, and the full capabilities to manage your project from beginning to end. Handling everything domestically and in-house guarantees a low-risk, worry-free process.
Levison Enterprises has the certifications, expertise, and facilities needed to be your electronics manufacturer for your aerospace and military electronic assembly project. Our attention to detail and commitment to quality makes us well-suited to any aerospace electronics project.