Your Best Defense Against Electronic Component Shortages in Your Next PCBA
Component shortages are frustrating. They can be disruptive, costly, and may even derail your design completely. Unanticipated component shortages can be infuriating, but both planned and unplanned shortages are part of the ECM industry. With the right ECM partner, you can lessen the impact of electronic component shortages and ensure that they will not derail your project.
An Experienced ECM Will Prepare for Upcoming Shortages
Working with an experienced ECM means that you are working with a partner who understands components availability and therefore will have parts forecasting in place. New technology is constantly being developed to replace old technology, and your engineer will understand how to plan for and anticipate component changes. In some cases, the technology is not the issue, but insufficient or a large increase in demand may cause a component shortage. Being aware of the developments can help you and your ECM create a design that aligns with the components you will have available. While all shortages are frustrating, planned shortages are much easier to work around.
Look for an ECM with In-House Engineers
Engineers understand the technology and what it means for your project. Many are skilled at anticipating component changes. Using reverse engineering, these experts can re-create your design without sacrificing quality or functionality, but will make use of the available components. A team of in-house engineers will likely offer a DFM analysis that will look at your design with a critical eye and make adjustments based on parts availability, determining alternative components if necessary. Having engineers perform a DFM analysis on your design is well worth the investment to avoid component shortages later in the build.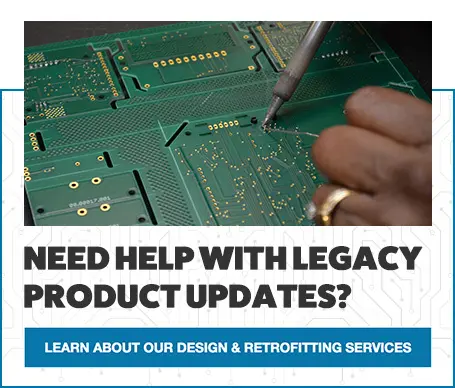 A Quality ECM Understands the Lifecycle of Components
All components have a lifecycle. Predicting that lifecycle is a skill that is invaluable in an engineer. Understanding a component lifecycle allows for parts forecasting, which then allows your ECM partner to put a plan in place. Planned obsolescence is determining the approximate time when components will become hard or expensive to obtain. This can allow parts to be sourced and procured early in the process, so they will be available when needed before the price increases, or replacement parts can be identified. Understanding the lifecycle comes with choosing an ECM with the right experience in multiple industries.
A Vetted Network of Suppliers is Crucial
When your ECM has a vetted network of suppliers, they will receive advanced notification of part availability and price increases, as well as changes to component life cycles and new components becoming available. When your ECM develops a relationship with suppliers they can trust, you benefit. Your ECM partner can stock up on parts you need, or use their other supply chain resources to find the right substitute. Counterfeit part risk goes up with component shortages, and a vetted network of suppliers can help avoid that risk.
Start Your Quote Now!
When it comes to component shortages, you need an ECM partner who understands the value of being prepared and proactive. Having your project interrupted due to unavailable components is a frustration that you don't need to experience. The right team can take a component shortage, or even a potential shortage, and work with it to seamlessly find the right solution to keep your project on track. If you've been looking for a great ECM with the certifications and experience to handle just about any project, contact Levison Enterprises today.