What to Look for in a Government PCB Manufacturing Partner
A lot of time, energy, and resources go into the design and development of an electronic product for government, military, and aerospace applications. Say you've reached a critical phase in development and you need an ECM you can trust. You don't want to leave anything to chance. But who can you trust for your all-important PCB manufacturing? You want an electronic contract manufacturer (ECM) that will not only meet your expectations but exceed them. Here are some things to look for when choosing a PCB manufacturing partner for your government project.
Experience
Experience that matches your project's requirements should be a big consideration when deciding if an ECM is the right fit. What industries have they worked with? What technology do they use? What other services do they offer? You need a PCB manufacturing partner that has the expertise to match what your job requires.
Prototyping Services
Prototyping is an important step in product development. Partnering with an ECM who offers prototyping services allows a second set of eyes to thoroughly review your design. It can also be taken a step further by testing the prototype to determine ways your design can be adapted for efficiency and cost savings.
Machinery and Updated Technology
The right PCB manufacturing partner will already have the machinery required for your project. They will also utilize the most up-to-date technology for manufacturing. Having the tools in place means your project will quickly move into production as soon as it is ready. This will save you time by allowing you to fulfill your government contract sooner.
Vetted Suppliers
You want to be sure only the best parts go into your PCBs, especially when they are for government use. Only work with an ECM that has a network of trusted and thoroughly vetted suppliers. This will greatly reduce the risk of counterfeit and poor-quality components being used in your PCBs.
Testing in House
A PCB manufacturing partner with in-house testing will ensure your product will work just the way it needs to when it gets into the hands of the government. Your PCBs will be put through multiple testing cycles to guarantee it functions the way it needs to.

Engineering on Site
A manufacturing partner with on-site engineering guarantees someone is there to immediately respond if problems are detected during assembly. Engineers will respond immediately by troubleshooting and correct any problems before your project moves further down the manufacturing process.
Turnkey Services
You might need your PCB manufacturing partner to complete an entire project. An ECM with turnkey services will be able to take care of everything from design to shipping, and everything in between, all under one roof with one team. This frees you to work on other projects without sacrificing your company's quality or reputation.
High Standards
Your ECM's quality standards should be as high, if not higher, than yours are. You want a PCB manufacturing partner that strictly follows processes for design and manufacturing to obtain and maintain quality. Be sure to work with an ECM that conducts various internal and external reviews and audits to ensure quality.
Proper Certifications
Compliance is key when fulfilling a government contract. Be sure your ECM can and will provide you with its ISO and AS9100 certifications, and ITAR compliance documentation. Working with a manufacturing partner that has taken the time to earn and maintain industry certifications ensures your PCB will meet and exceed industry standards.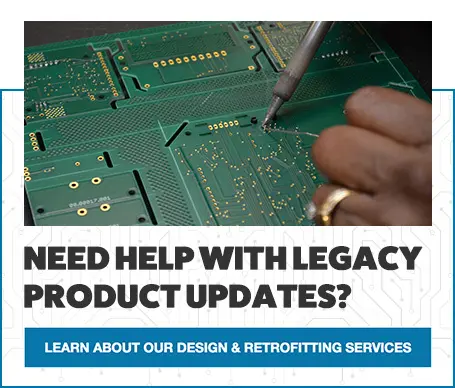 At Levison Enterprises, we are mission-ready for your next government project. We have successfully fulfilled contracts for the FAA, Department of Defense, and several other government agencies, and we carry the exclusive AS9100 certification for the aerospace and defense industry. Levison Enterprises is the PCB manufacturing partner you can trust with your most important contracts. Contact us today to see how we can assist with your next project.