What to Expect from a Partnership in Electronic Manufacturing
Finding the right electronic manufacturing partner isn't always easy. One of the biggest challenges is not knowing what you can expect from this partnership. What will a good electronic manufacturing partner offer you? What do you need from them? Looking for someone who fits you only for the short-term isn't the best solution, so knowing what you are looking for in the long run and knowing what partners can provide can set you on the right path to finding someone who will fit your needs for years to come.
What an Electronic Manufacturing Partner Adds to Your Business
The technology for OEMs is becoming more and more complex. If you don't have the expertise in-house, attempting to do things yourself may delay your progress. For most companies, maintaining a full assembly and engineering staff isn't practical or financially viable. Your business may not have the specialized equipment you need, and investing in the equipment isn't a smart use of your budget either. Outsourcing to an electronic manufacturing partner ensures that you will be working with a company who has the knowledge, expertise, and equipment to best meet your electronic manufacturing needs.

What Your Electronic Manufacturing Partner Can Do for You
· PCB Assembly
Printed circuit board assembly (PCB) is the process of using surface mount technology or through hole to solder components like transistors, resistors, and integrated circuits onto a bare board. When completed, this will allow you to route power and signals between devices. Most electronic manufacturing partners will offer in-house testing to ensure functionality.
· Cable and Wire Harness Assembly
This will include harsh-environment cable assemblies, harnesses, control panels and boxes, mechanical subassemblies, and panel wiring. A quality electronic manufacturing partner will be able to engineer, test, and manufacture the products you need. Your partner should be certified in hand soldering for these assemblies, as well as offering custom over-molding capabilities.
· Box Builds
Box builds are also referred to as electromechanical assembly. These enclosures may be steel, aluminum, or plastic. A good electronic manufacturing partner will have a dedicated team for these final assembly services.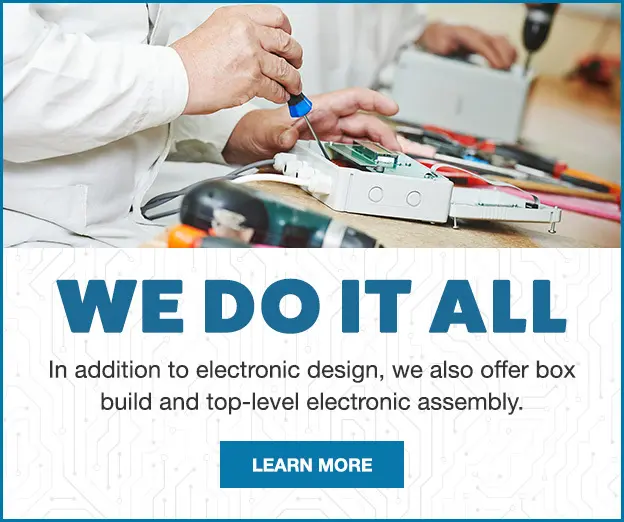 · Contract Design
Many times you will need an expert that is specific to electronic manufacturing. An electronic manufacturing partner will let you take advantage of expert, industry-specific engineers and teams they have in-house.
· Testing
Failing to test can cost extra money to fix issues, hurt delivery times, and harm the reputation of both your product and your company. Your electronic manufacturing partner should commit to testing everything they send to you to ensure it was built to your specifications and is ready to send to your customers.
· Prototyping
PCB prototyping can help you avoid expensive and embarrassing mistakes. Prototyping can include a visual model, proof of concept, a working prototype, or a functional prototype. Having a prototype can protect your budget as well as help you check and confirm your product before production.
The right partner matters when it comes to electronic manufacturing. When you partner with an electronic manufacturing company, you are partnering with an expert who will help make your business a success. When looking for a partner, consider what they offer in relation to what you need so you can confidently choose a partner that will best fit what you are looking for. Levison Enterprises has the experience and knowledge to help you build your next product. Contact our team to discuss your next project.
Start Your Quote Now!