What is Your Electronic Manufacturer's Obsolescence Management Plan?
When a PCB ages, some components on the board may no longer be available for replacement if needed. Obsolescence is when your electronic manufacturer or PCB has components that are past the point of repair or replacement, which can render an entire system dysfunctional. An obsolescence management plan will ensure that your product line is protected from this dysfunction, which will mitigate the need for a costly electronic redesign.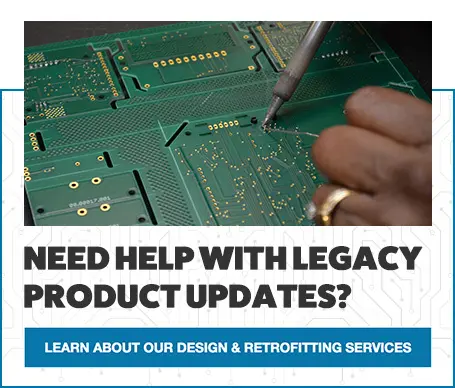 Comprehensive Obsolescence Management Plan
Obsolescence management processes are necessary for a comprehensive plan. An experienced team can forecast potential obsolescence risks, assess the availability of components, troubleshoot equipment, and provide engineering support. Having a comprehensive plan can help avoid redesign, which is not only a major expense, but may also be a headache of paperwork and red tape when it comes to highly regulated industries.
Retrofitting and Reverse Engineering with On-Site Engineers
Engineers on-site are crucial for a quality obsolescence management plan. In the case of obsolescence, the engineers can look at the issue and get to work solving the problem by retrofitting and reverse engineering. Working through the obsolete components is cheaper and quicker than redoing the entire project, and engineers are trained to think through the design and manufacturing process to come up with alternative solutions. Engineers can help to choose components with predictable life cycles, which will mitigate the risk of unforeseen obsolescence.
Forecasting
Good obsolescence management plans include a forecasting tool to help you stay on top of potential obsolescence risks. Investing in this tool, which is usually included in obsolescence management software, can alleviate inflated costs for low-supply components by letting you know in advance which parts may be impacted. Without forecasting, you may have to pay significantly more for the parts, and may even have to do a complete redesign to work around the parts in question.

Focus on Parts
Having a vetted supplier who can source obsolete components is a key part of your obsolescence management plan. Some distributors can repair parts that are no longer available or can offer replacements that will work just as well. Keeping all parts information in a centralized location that is accessible will allow all team members to see which parts are at risk of obsolescence.
Preventive Maintenance
Having preventive maintenance as part of an obsolescence management plan will help reduce issues as well. Frequent maintenance will increase the system reliability over time. It will allow companies to pursue replacement and repair strategies before components have failed completely. Although preventive maintenance may come with up front costs, reducing the need for extensive redesigning will ultimately lower costs for the project.
Innovation and design are progressing quickly. As technology advances, there is always a risk of key system components becoming obsolete. Rather than scrambling to find replacements or reworking the entire design, outsourcing your project to an electronic contract manufacturer with an obsolescence management plan in place can meet this challenge without adversely impacting the timeline of your build. Levison Enterprises understands the importance of a solid obsolescence management process, and our experience with a wide range of industries coupled with our on-site engineers proves that we are up for the challenge to help you on your next project. Contact us today.
Start Your Quote Now!