What Can Cause Printed Circuit Boards to Fail in Electronic Manufacturing?
Your printed circuit board is the brains of your product. When your PCB fails, it can be costly and cause major consequences for your product. Yet when you understand the common causes of PCB failure, you can use the right tools to prevent future failures in electronic manufacturing. Preventing failure is the best way to minimize the stress and expense of dealing with failed PCBs.
PCB Design Issues Can Cause Failure
If you have an issue with your PCB design, failure is possible and likely. There are many problems that can occur during design. Some of these include:
Component placement
Overheating due to overcrowding
Poor component quality
The first step in a quality PCB is good design. When you work with a turnkey ECM, they can begin your project with a DFM (Design for Manufacturability) analysis, which will highlight any potential issues before you go through with a full manufacturing run of the project. Incorporating prototyping, vetted suppliers, and an engineer approved design from the beginning can help with all the design issues that can cause failure.
Environmental Causes
Environmental pressures can also play a large role in PCB failure. When the environment isn't right, the components can react. Excessive heat, dust, moisture, and electrostatic discharge during assembly can all cause PCB failure. If your product will be in an environment where it will be exposed to any of these environmental factors, it's important to discuss that with your ECM early in the design process. Your ECM can recommend protections to be put in place that will lower the risk of failure from certain environmental factors.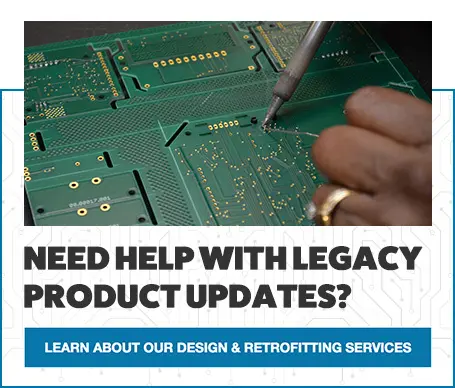 Age
As PCBs age, their risk of failure increases. Stopping age-related failures comes down to preventative maintenance more so than repair. However, if a part does fail, instead of discarding the entire board, it can be more cost-effective to replace old parts with new. Reverse engineering can give new life to legacy designs where the components have begun to fail, but the product is still relevant.
What Can You Do if Your PCB Fails?
Failure, to some degree, is inevitable, and PCBs are no exception. The best thing to do is pinpoint the cause of the failure, usually through a PCB failure analysis, and then work to eliminate the risk of that problem ever occurring again. X-ray inspection, optical SEM, PCB contamination testing, PCB solderability testing, and micro-sectioning analysis can all help in determining the root cause of the failure. In micro-sectioning analysis, a slice of board will be removed to isolate the components. Other testing can look for quality control, specifically during assembly.
How You Can Avoid PCB Failure
While it's good to know why your PCB failed, it's always better to avoid failure in the first place. While it's not possible to avoid 100% of failures, you can put the odds in your favor. The first step is to always partner with an experienced ECM. Having the right team working with your PCB from the early stages can help you identify and alleviate many potential risks right from the start. Conformal coating can protect your PCB from dust, dirt, and moisture. Testing, especially during assembly, is critical. There are many different tests your ECM will recommend. Your ECM will also help you verify quality components through a proactive obsolescence management plan. By identifying the components that are likely to succumb to age, you can have high-quality components ready to step in, if necessary.
No one wants their PCB to fail. Having a partnership with an experienced, turnkey ECM is the best way to set your product up for a successful life span. If you're working on your next product design, contact Levison Enterprises for a quote or to learn more about our high standards and capabilities.
Start Your Quote Now!