Parts Obsolescence in Medical Device Manufacturing – Why?
It is no secret that parts obsolescence is a major concern in the electronic industry. But the problem of obsolete and hard to find components seems to be compounded when it comes to medical device manufacturing.
Medical device manufacturing comes with its own unique set of qualifications. The concern with parts obsolescence for electronic medical devices is equally as unique. But in order to begin to combat the problem, you must first fully understand it.
Resistance to Change:
Medical device manufacturing is quite different from other electronic manufacturing. It is not technology driven, nor is technology the motivation for a patient to seek care. Because of this, parts obsolescence shows up differently in medical device manufacturing.
Quality of healthcare is not dependent on new technology being developed. The main concern is treating a patient successfully. Therefore, if a medical device successfully treats patients, there is resistance to try something new.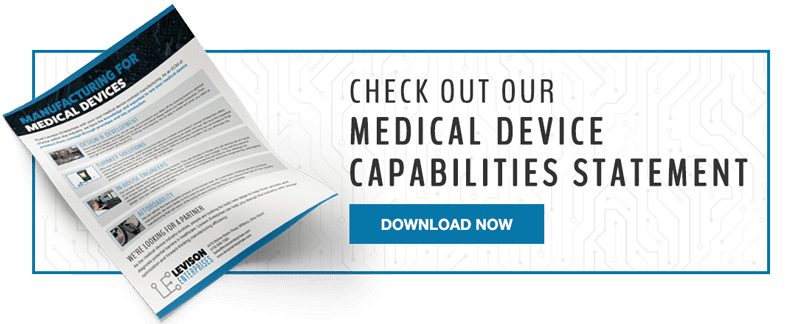 Additionally, doctors tend to use tried and true devices and aren't quick to jump on the "next big thing" in medical devices. New technology often comes with a learning curve. Doctors typically have no interest or time to become proficient in something new. They have already spent many years perfecting their craft a certain way and tend to stick with equipment they fully understand and know they can rely on.
Because of all this, legacy designs are relied on heavily by medical professionals. However, the design of these devices tends to largely outlive the life cycle of the electronic components inside it. Therefore, the importance lies in upholding legacy devices and mitigating the parts obsolescence issue.
Challenges:
The medical field's resistance to adopt new technology brings a few different challenges with it. First and foremost, short life cycles on tech components dictate the market. If components that make up the device are hard to come by, the device itself will be hard to find. Fewer will be manufactured. This means many medical device manufacturers must scrap long-term plans they may have had for their product.
In addition, sustained innovation to suit the market requirements and efficacy is more easily said than done. Introducing a new healthcare product is an extremely expensive venture. And medical devices take a long time to develop. Plus, any new products or changes to existing devices must get FDA approval. It is much easier to just stick with an existing product.

What Successful ECMs in the Medical Device Industry Know:
There are ways to mitigate parts obsolescence and continue manufacturing successful medical devices. Top ECMs understand the design itself can eliminate potential problems. The potential of a part becoming unavailable should be planned for in the design phase. Alternative components can be determined and multiple sources for parts can be identified. Planning ahead will reduce the potential for future problems.
On-site engineers for fabricating and redesigning is key. They can step in immediately with a redesign to accommodate replacement parts at any time. And they can reverse engineer legacy designs in order to retrofit parts and update technology.
Furthermore, forecasting the risk of discontinued parts can mitigate future roadblocks in production. An estimated timeline of when parts will become unavailable will prevent a pause in manufacturing. Plus, you will be able to find replacement parts and stock up on what you need before they are hard to find and the price goes up.
Obsolescence is a major problem. However, how it affects a company depends heavily on proactive steps the company has taken to mitigate parts obsolescence. The best ECM will plan ahead, and have experience doing so in the past.
Start Your Quote Now!
Levison Enterprises works closely with its clients in order to secure all of the parts needed for electronic medical devices. We are more than an electronic contract manufacturer – we're a partner that helps your company improve the health of the entire nation. Contact Levison today to see how we can assist on your next medical device manufacturing project.