The Importance of PFMEA in Electronic Manufacturing
In any manufacturing process, there are bound to be issues. From design to prototype to manufacturing, problems can arise, and the failure to address them early can cost you in both time and money. To best mitigate issues like this, partner with an electronic manufacturer and implement the Process Failure Mode Effects Analysis (PFMEA) to help streamline your approach.
What is PFMEA?
Developed by the military in the 1940s, PFMEA outlines a strategy by which manufacturers can undertake a step-by-step process to identify all possible problems or failures in the design, manufacturing process, assembly, or finished product. It identifies exactly where the weaknesses in the process reside, and then identifies the consequences of those failures.
Once the failures have been identified, they are prioritized by the seriousness of the failure, how frequently they can be expected to occur, and if there are ways to detect issues before they happen. Once developed, the PFMEA report can help manufacturers determine how to eliminate or mitigate those failures, resulting in a more efficient and productive process.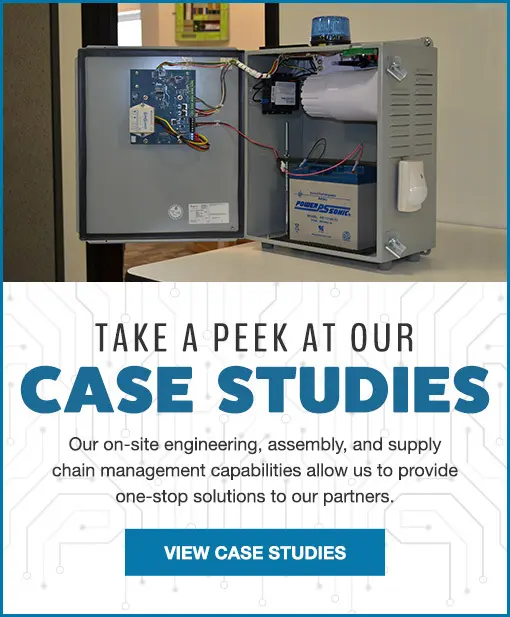 Knowing which failures are the most serious allows manufacturers to address those with the most detrimental effects so they can be addressed first. Ideally, PFMEA starts at the very beginning of any design process, and is carried on continuously throughout to ensure the safest and most error-free process.
Undertaking a Comprehensive PFMEA
Because a PFMEA encompasses a project from the very start through to completion, it is vitally important that the process involves the entire team that will be working on the project from start to finish. Your PFMEA team should be composed of both seasoned veterans and those with fresh eyes to help identify issues from diverse perspectives.
Teams should include members from all facets, including engineering, design, and prototyping through to manufacturing, sales, shipping, and customer service. It is an all-encompassing roadmap designed to find any and all issues that may arise.
Putting just a small team together with representatives from a few departments does the entire process a disservice. All bases must be covered to protect against what could be a critical system weakness, including sources such as:
Man
Methods
Material
Machinery
Measurement
Mother Earth (environmental)
When a PFMEA report is compiled, it should include any issues throughout the process. The failure "mode" should be identified with as much information recorded as possible. There are five types of failure that can be expressed in a PFMEA.
Full failure
Partial failure
Intermittent failure
Degraded failure
Unintentional failure
Each failure of the process should be considered for their overall effect on the complete process. For some failures, there could be multiple effects; all should be considered separately. Once determined, each effect needs to be scored on a scale from 1 to 10, with the low end indicating a minor disruption in the process, and the high end indicating safety or regulatory concerns.

Identifying problems early in the process allows for a more streamlined corrective process. By staying ready for whatever may come up, manufacturers who employ the PFMEA steps are always one step ahead of problems, eliminating the surprise factor.
At Levison Enterprises, our focus is always on looking ahead and eliminating process errors where they can be identified. To learn more about the benefits of a partnership with us, contact our experienced team today.
Start Your Quote Now!