Refining Military and Aerospace Electronic Manufacturing
As technology advances, the Department of Defense has more need for an electronic manufacturer to handle the challenge of building military and aerospace PCBs. Finding military electronic manufacturers can prove to be a challenge, as these particular ECM partners will need to show their experience, capabilities, and ability to meet the certification needs and standards of these precise electronics.
The Challenges of Military and Aerospace Electronics
Military electronics managers face unique challenges. The ECM involved in military and aerospace PCB manufacturing will need to understand the industry. The military has a growing need for printed circuit boards and there are many opportunities for ECMs to provide the manufacturing for military and aerospace electronics. However, to be involved, the partner must demonstrate competency, trust, and knowledge of the unique needs.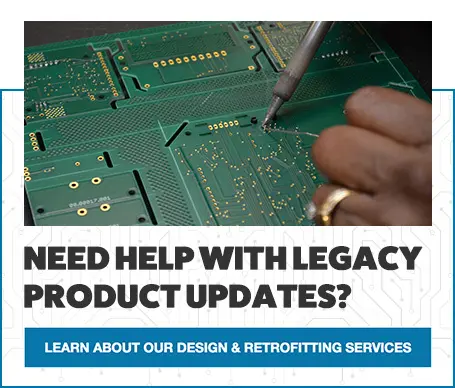 Military Electronic Manufacturers – Certification and Experience
Multi-industry experience is crucial for ECMs who partner with the Department of Defense for military and aerospace electronics. Rigid-flex printed circuit boards are useful for many military and aerospace electronic components. Experience in working with these circuit boards can prove valuable when working with aerospace and military components. In addition to experience, it is vital that any ECM partnering with military electronic manufacturers hold all the necessary certifications. These certifications will allow the ECM partner to be a good fit for military and aerospace builds.
Finding the Right Partner for Military and Aerospace Electronics
The right military electronic manufacturer will not only have the right certifications and experience. The right ECM will also be a turnkey facility that is ready to take a project through to completion. Having one shop ensures that there will be a consistent point of contact and the possibility of human error during communication will be greatly reduced. Sticking to the time restraints and budget of a defense contract are also much easier to adhere to with a turnkey ECM partner. The right ECM will have:
Engineers on-site and Design Support
Having engineers on-site throughout the duration of the project ensures that any adjustments that need to be made to any components can be handled in a timely manner.
The military has specific requirements for suppliers, and an ECM with a vetted supply chain is much more likely to have the right suppliers to meet the needs of the project.
Counterfeit Component Mitigation
To meet the standards of the project, an ECM will need to have a plan in place for counterfeit component mitigation. Counterfeit components are always a concern, but having vetted suppliers and a proactive plan in place will lower the risk.
More Than Design - Military
Testing and prototyping throughout the project will keep the quality of the final deliverable high. An ECM who deals with military and aerospace electronic components understands the need for the highest quality in these applications.
Military and aerospace electronic manufacturing means that stringent regulations, security concerns, time sensitivity, and a commitment to high quality are not only expected, but required. Refining the processes from design through delivery means that your turnkey ECM is well prepared to handle the challenges that come with military and aerospace electronics. Levison Enterprises is well-versed in a wide range of industries and we hold top certifications that lend to our diverse experience and top-notch turnkey service. Contact us today to discuss the requirements you need for your next mission ready project and how Levison Enterprises can deliver.