Partnering with a Domestic ECM Can Save You Money
There seems to be a common thought that partnering with an overseas electronic contract manufacturer can save you money. That misconception is just that…and far from the truth. In fact, partnering with a domestic ECM can save you much more money in the long run. There is a long list of reasons, all of which should have you looking here at home in the good old US of A for your next manufacturing partner.
Quality Assurance
There are some things it's hard to put a price tag on. Quality assurance is one of them. Domestic ECMs will have a team of engineers dedicated to improving your product's manufacturability. They will be on hand from start to finish to guarantee the quality of your product.

Clear Communication
Good communication is imperative to any successful partnership. You run the risk of things getting lost in translation when working with a manufacturer overseas. Language barriers and cultural differences can make communicating tough and often lead to costly misunderstandings.
Shipping Costs
High shipping costs can quickly cause production costs to skyrocket. This is especially true when you are paying to ship something to the US from overseas.
Not only will using a domestic ECM save you on shipping costs, but the shipping itself is more reliable too. Your products won't need to travel across oceans to get to you. You might even find a manufacturer that is a simple truck drive away.
Shorter Timelines
It stands to reason that the closer you are to your ECM, the sooner your order will get to you. Domestic manufacturers will be able to get your electronic project to you much quicker and without the risk of getting caught up in customs for an undetermined amount of time. Unforeseen shipping issues can cause manufacturing delays and incur additional costs, and these hiccups are impossible to predict.
Small Runs
Sometimes you just don't need a lot of product. Domestic ECMs are more flexible regarding scalability in production runs. The ability to order a small production run will save you time, money, and resources.
Trustworthy Supply Chain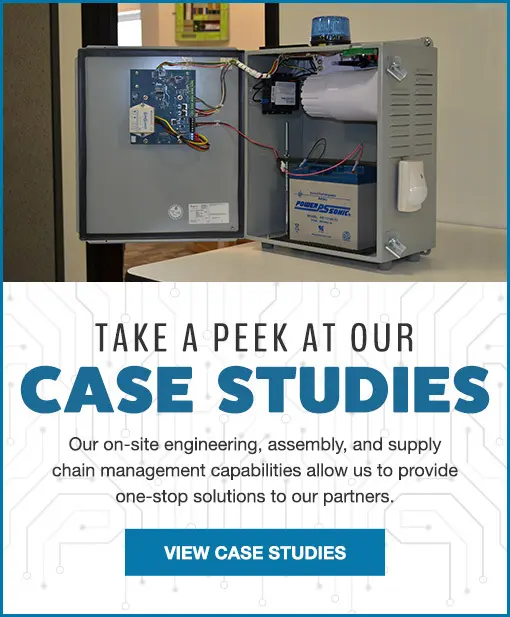 A faulty or counterfeit component can really do a number on your bottom line when your finished product doesn't hold up to the quality standards you thought it had.
U.S. manufacturers typically have an unbroken chain of custody directly from the parts supplier to the factory. Counterfeit detection measures used here mitigate the risk of fake parts falling through the cracks.
Intellectual Property is Safer
International intellectual property laws typically aren't as strong as the ones we have here in the US. It is much easier to protect your intellectual property in the United States. The US has some of the strictest intellectual property rights protections in the world, making the risk of IP theft fairly low with a domestic ECM.
Save Time When Errors Occur and Troubleshooting is Needed
Some domestic electronic manufacturers employ in-house engineers. These experts are on hand to troubleshoot on the fly. They are able to detect and correct problems early and efficiently. This engineering support optimizes the production process and saves you in both time and money.
Everything Under One Roof from Beginning to End
There are big advantages if you have a domestic ECM that can handle all aspects of your manufacturing from beginning to end. Having a turnkey partner gives you the ability to negotiate a better price than if you were to hire separate companies for various stages of production. But, turnkey manufacturing by a single provider also gives you peace of mind that everything is properly handled and all under one roof so you can turn your attention to your next great project.
You need to be confident you have the right manufacturing partner you can trust with your electronic projects at a price you can afford. Chances are the ECM you need can be found domestically in the United States.
Start Your Quote Now!
Levison Enterprises is confident we can supply trustworthy electronic manufacturing services at an affordable price that works for you. Our AS9100 and ISO 9001 certifications are evidence that we hold ourselves to the highest standards in the industry. Contact us today to discuss plans for your next electronic contract manufacturing project.