Outsource Your Military Device Manufacturing to an Electronic Manufacturer With Confidence
Outsourcing military device manufacturing can feel risky. This is a high-stakes, highly regulated industry, and you need to find a partner you can trust to do the job well. When you are looking for the right electronic manufacturer for military device manufacturing, you need a partner who is capable and certified to build your products well. When your ECM (electronic contract manufacturer) is confident, you can be confident as well.
Your ECM Should Have the Right Capabilities and Certifications
Experience in working with rigid-flex PCBs is important for military and aerospace electronic components. Your ECM should not only have experience working with these circuit boards for the military and defense industry, but need to have all the necessary certifications to ensure they are well-qualified for the job. Up-to-date certifications from all engineers and other professionals involved in the project are essential, and the right ECM will have them ready for your approval. Government project experience means that your ECM will know how to get your project through this highly regulated process with ease.
More Than Design - Military
On-Site Engineers are Beneficial Throughout the Process
An ECM with on-site engineers available throughout the entire process is one of the hallmarks of a turnkey facility ready to handle all your project needs. The engineers are not only there for the initial design phase, but will be able to handle testing, prototyping, and adjusting throughout the process and before your product goes through a full-scale manufacturing run.
On-site engineers can perform DFM analysis to ensure that your product is designed in the most efficient and effective manner, and reverse engineering capabilities can give new life to legacy products as well as quickly and easily address areas you can streamline in your design. When the engineers are on-site and involved in the project from the beginning, your product will get the right attention it needs throughout the build.
Vetted Supply Chain and Counterfeit Parts Mitigation
A vetted supply chain is always important in PCB manufacturing, but in a highly regulated industry such as military and defense, it becomes even more crucial. The ECM you choose must have a policy in place for counterfeit parts mitigation, and often that plan begins with relying on vetted suppliers who can be trusted to provide the components you need with the authenticity you require. When you go through DFM analysis, the engineers can work with the suppliers to ensure that the parts required are available, and if they aren't, the engineering team can switch out components for more readily available ones.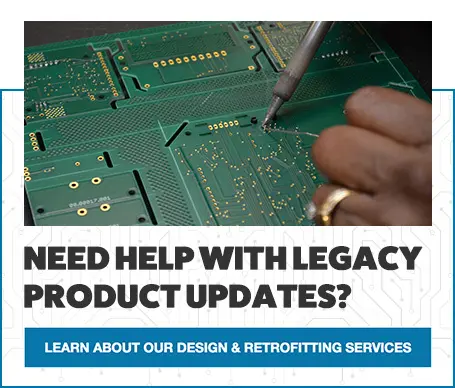 Look For a Turnkey Facility with Quality Assurance
A turnkey ECM can handle your entire project under one roof from design through to packaging and delivery. Having a turnkey facility means that your product will not travel from vendor to vendor, setting up risk for failures in communication and delays in manufacturing. The engineers will work with the entire team to manage your project through from beginning to end, giving you the quality assurance you need.
Finding a partner who can complete only part of your project isn't enough for military device manufacturing. When it comes to PCB manufacturing for the military, you need a turnkey ECM dedicated to completing government projects who is prepared to handle any special requirements the project may need. Finding the right domestic, turnkey ECM means that your project has a high probability to come in on time, within budget, and meet the quality standards required for this highly regulated industry. If you're looking for a turnkey ECM with extensive experience building military and defense devices, contact Levison Enterprises today.
Start Your Quote Now!