Outsource Your Medical Device Manufacturing with Confidence
Over the last decade, the medical device industry has experienced exponential growth. However, as the market has grown, there have been a number of factors driving costs and expenses up as well. Staying on the cutting edge of the industry also means maintaining profitability. Increasingly, more and more companies are turning to outsourcing their projects to medical device manufacturers to stay flexible in an exploding field.
One of the top ways medical device companies are outsourcing parts of their business is through manufacturing. Instead of dedicating their own resources and maintaining a design and manufacturing team, medical device companies are finding trusted partners among ECMs to help control costs and increase efficiency in delivery. With established sector leaders trying to maintain their position amongst a bevy of new players in the market, finding an outsourcing partner they can trust has become imperative.
Growth of Outsourcing
At the same time there has been incredible growth in the medical device field, there has also been a parallel growth in medical device contract manufacturing. That's because medical device companies have found that they can put more resources towards research and development in-house by outsourcing the manufacturing. The focus on the core of their business, innovation, allows companies greater flexibility with their resources.
The medical device field topped $300 billion worldwide in 2017. Outsourcing by those same companies totaled over $44 billion. It's definitely a trend that is here to stay.
Risk/Reward of Outsourcing
While the decision to outsource may seem like a no-brainer, it does come with a significant amount of risk. The biggest is the very lifeblood of a medical device developer, keeping intellectual property safe and secure. Beyond that, medical device companies looking to outsource can't just pick any ECM to handle their manufacturing. They need to do their due diligence and find a partner they can trust.
When trying to save money outsourcing, it may be tempting to trend toward the low bid. However, that ignores some very important factors.
Not only does a company need to be trusted with proprietary information, but there also has to be trust that the outsourced manufacturer is using the proper materials and components. If they aren't capable of the necessary specialized production and handling needs, they open the medical device developer up to a host of issues.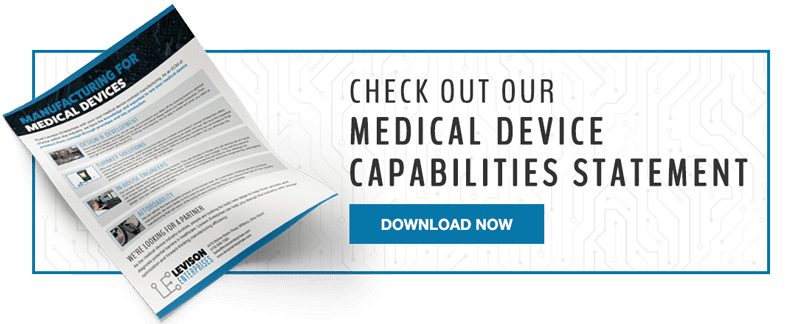 Picking the Right Partner
The most important factor when choosing to outsource manufacturing is to find an ECM that has a proven track record of delivering on its promises. The medical device field is fueled by constant innovation. One hiccup in the production of the next big thing in medical devices could derail your business entirely. If you're outsourcing to save time and money, an outsourcing partner that does neither isn't worth much.
You should also find a partner that can handle the manufacturing gauntlet under one roof. On-site engineering, functional testing, and development of prototypes will go much quicker. High-quality  work will be evident in the finished product.
If you've made the decision to outsource manufacturing of your company's medical devices, look no further than our team of industry experts at Levison Enterprises. We make customer service and satisfaction our top priority, and ensure that we are certified in proper compliance standards such as ISO 13485. Levison Enterprises will bring you the full benefit of outsourcing production in a rapidly evolving marketplace.
Start Your Quote Now!