How On-Site Engineers Impact Your Military Electronic Assembly
Current estimates show about one-third of military defense spending is for electronics. This means companies that provide military grade electronic assemblies must be on top of their game if they are to provide reliable, long-lasting electronic assemblies that meet the standards of aerospace and military. You don't want to trust just any electronic contract manufacturer with your turnkey electronic assembly. You will know you are working with the right company if they have on-site engineers. When an ECM employs engineers who are in-house, it can mean a big difference between just a finished product and a robust product that is ready for battle.
Experience
Military-grade electronic assemblies are also exposed to extreme working conditions including temperature, humidity, vibration, and other harsh environmental conditions. Not every company that offers turnkey electronic assembly will understand this. Your ECM must manufacture and provide you with assemblies that are as tough as the soldiers that will use them. You want to work with a company that has made the investments in terms of both manufacturing equipment and manufacturing expertise that focuses on the reliability and high performance required of military grade electronic assemblies. Along with that, in-house engineers will be able to track quality and military standards through every step of the manufacturing process. They will be right there to detect any issues and will be able to respond at a moment's notice to correct anything that might compromise your product.
Quality Standards and Certifications
Military electronics are expected to stay in action from five to 15 years. This is much longer than the two to five years consumer electronics are expected to last. Government, military, and quality certifications earned by an ECM are evidence of their technical expertise and high-quality standards. AS9100 certification shows a company has good practices and effective quality management for design and development of defense and aviation products including parts, components, and assemblies. ITAR registration shows a manufacturer meets government requirements to be able to view and be trusted with sensitive materials. ISO 9001 certification shows high reliability with products that are consistently built to the highest standards possible.

Counterfeit Parts Mitigation
There is no room for error when working with military grade components. An electronic assembly is only as good as the parts that make it. You can't run the risk of poor quality of counterfeit wires, resistors, capacitors, inductors, connectors, fuses, relays, and other components going into your defense products. It is imperative you work with an ECM with a secure supply chain.
Your manufacturer must have detailed traceability when sourcing materials. Working with a company with a vetted network of trusted suppliers will minimized the risk of counterfeit parts being used in your build.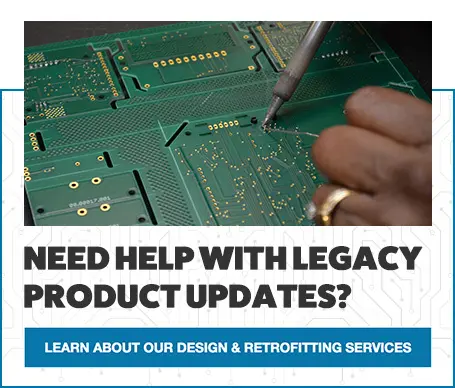 Electronic manufacturing for military is unique. That's why it is important to find an electronic contract manufacturer that has the quality standards, certifications, and experience to handle the demands of these kind of projects. Levison Enterprises is that company. Our in-house team of engineers can tackle any project. And our decades of experience make us uniquely suited to handle the rare combination of older and cutting-edge technology often required in the defense and aerospace industries. Levison has successfully fulfilled contracts for the FAA, Department of Defense, and several other government agencies. Let us put our experience to work for you. Levison Enterprises is mission ready for your next project. Contact us today.