Finding The Best Electronic Manufacturer for Your PCB Design
Designing a printed circuit board (PCB) requires a high level of expertise. You may not have the resources and skills readily available to create the powerful PCB you need for your next big project. Sometimes you need help with printed circuit board designing. Partnering with an electronic manufacturer is beneficial for many reasons.
More and more electronics companies are outsourcing PCB design to get the job done as quickly and efficiently as possible. Outsourcing engineering design services gives you access to the knowledge, expertise, and equipment to best meet your PCB design needs. Your design services partner should offer the skills and solutions you can count on to create circuit boards that meet your needs. However, it is important to look before you leap.
Before taking on a PCB design services partner, you need to be sure they offer services that will best fit your needs. There are several things to look for before hiring an engineering design group to create the layout for your PCBs.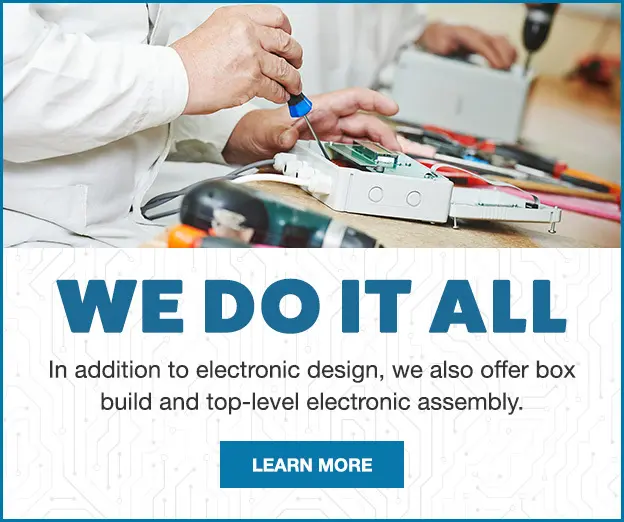 Redesign Support
Technology changes rapidly. Sometimes your PCB and/or the components that construct it may become obsolete in the time between design and manufacturing. This is why you need to partner with an engineering design group that can support you with a redesign whenever warranted.
Your design company should be ready, willing, and able to step in with a redesign due to parts obsolescence or technological advances. Engineers can quickly redesign using current technology and components.
An engineering design group will also be able to step in with a redesign to optimize your project. They will offer engineering solutions to streamline your design for better functionality while satisfying your requirements for quality, reliability, and cost.
Reverse Engineering
Maybe you don't need your PCB design partner to start from scratch with your boards. Maybe you just need them to update and/or refresh a legacy product. Reverse engineering may be the perfect solution. Working with an ECM that has the ability to use reverse engineering allows your PCB designs to be upgraded with little to no interruption in the manufacturing process.
Reverse engineering is the process of disassembling a PCB in order to figure out its design and how it works. Engineers closely examine how it is put together in order to duplicate it with updated technology or components.
Reverse engineering may be used for:
Upgrading legacy systems
Design for Manufacturability (DFM) analysis
3D prototyping for rapid product development (RPD)
Reverse engineering can also play a vital role in battling parts obsolescence and redesigning for optimization.
In-House Engineers
In-house engineering is paramount for PCB design services. They need to have an eye on your design but are also looking at it from a production standpoint. Is it manufacturable? Can they make small adjustments to the design without sacrificing function to assist with manufacturability? Look to an engineering design group that has engineers on-site to keep your design in check.
On-site engineers provide your PCB assembly with a team of troubleshooting experts. They continuously monitor and test your project in order to uncover issues and promptly redesign before potential problems have a chance to cause major setbacks.

Quality Certifications
Perhaps the most important thing to look for in a PCB design services partner is a company that has certifications to back up their capabilities statement. ISO, AS9100, and ITAR compliance indicate you are working with someone with a true commitment to excellence that will protect the quality of your product, no matter what industry you're in.
Certifications to look for include:
ISO 9001 – The most widely recognized quality certification that demonstrates statutory and regulatory requirements and customer satisfaction.
AS9100 – An aerospace quality management system considered a "highly stringent" quality standard.
ITAR (International Traffic in Arms Regulations) – This certification from the United States Department of State controls the import and export of sensitive defense-related materials and information.
IPC and J Standards – These are electronic workmanship certifications for soldering cables and circuit board assemblies.
A company without these certifications may not maintain the same standards and requirements of the certifying organizations.
Can They Handle Any UL/Certifications?
An ECM that handles your PCB design services and beyond must be familiar with the UL certification process. UL certified means the product has been certified to meet the standards of Underwriters Laboratories, a private safety organization funded by manufacturers, insurers, and other organizations. It is the only way to show that your product meets the standards of today's marketplace.
In addition, if your products are to be sold overseas, you will need a partner that can get you the letters CE on your product. This shows it meets the health, safety, and environmental standards to be sold in the European Union.
Regulations
Reputable engineering design service partners will stay on top of all of the latest industry regulations. Electronic regulations are constantly being changed and revised. Your design partner should be aware of changes in rules and any pending regulation changes that are on the way. They will then provide guidance if anything needs to be modified to maintain compliance.
Design for Manufacturability
Design for Manufacturability (DFM) is an important part of product development. Having a design partner that offers a DFM is a big bonus to getting your PCBs off the drawing board.
A DFM analysis uncovers potential design issues that could cause problems during the manufacturing process. It can also identify parts and design alternatives that will streamline manufacturing to save time and money.
Prototyping
A design on paper isn't worth much if you don't know it works. Prototyping is the only way to know how your design functions. Partnering with an engineering design group with prototyping services will allow just that. Prototyping lets you do a small run on your PCBs in order to test their functionality.
Do They Provide Turnkey Services?
Sometimes you just need the convenience of a one-stop-shop. An engineering design services partner should be able to handle more than just your design. A design firm with turnkey services can create your design and handle everything else as a single provider.
Turnkey services might be the perfect fit for your latest project. Turnkey means your ECM will take care of the entire process, including design, preparation of PCBs, obtaining components, continuous quality monitoring, final assembly, packaging, and shipping. Turnkey solutions allow you to trust your manufacturing partner to handle your entire project so your staff can shift their focus elsewhere.
Assembly and Low Volume Runs
Once your PCB design services are complete, you should count on your engineering design services partner to be able to oversee the manufacturing of your PCB assembly. Are they able to complete low volume runs? Your manufacturing partner should be willing to manufacture any number of printed circuit boards you need. It is the process that should matter, not the size.
Can They Also Ship it to Your Customers?
Shipping should not be overlooked when choosing an electronic contract manufacturer. Let a manufacturing partner free up your time by handling the packing and shipping of your printed circuit boards right to your customers. Working with a company that can get your PCBs where they need to be when they need to be there and in top condition will give you peace of mind.
Making the Decision to Outsource
Deciding whether or not to outsource your printed circuit board to an engineering design group should not be taken lightly. After all, you are trusting an outside source with a project that could make or break your business.
Outsourcing is a strategic move that can align your business with the cutting edge of innovation. It can give your company a more flexible approach to product development while still delivering top-quality products.
Advantages of Outsourcing PCB Design
Outsourcing PCB design and layout to an engineering design group is not just about saving time and money. Outsourcing has many other advantages like gaining specialized knowledge, abilities, and processes of seasoned design experts. Other advantages include:
Reduced cost of development – Partnering with an engineering design group gives you access to the tools and equipment you need without having to buy them. This will automatically reduce your operational costs.
Better accountability – Having an outside team of engineers work on your PCB design and layout services will provide better accountability. Your team may already be spread thin. Outsourcing provides you with people who will be dedicated solely to designing your PCBs.
Faster time-to-market – An engineering design group you hire can hit the ground running. They will already have the tools, software, equipment, workflow, and other processes in place. This can speed up the entire design, development, and manufacturing process and get your final product to market faster. Outsourcing brings you the latest and best technological advances without the learning curve.
Fewer full-time employees – You can eliminate the overhead of staff you may not need with outsourcing. With someone else handling design, you won't need as many resources on your own staff to complete the project.
In this time where technology moves at a rapid pace, working with the right partner just makes sense. Outsourcing places all the responsibility for meeting your needs on the engineering design partner so you can enjoy the benefits or your next great idea.
The Bottom Line
The decision to outsource your PCB design is a big one. You want an engineering design group to partner with that can tackle more than just design. A single electronic manufacturing service will know your build from start to finish. This helps prevent things from falling between the cracks.
When looking for a partner, consider what they offer in relation to what you need so you can confidently choose a partner that will best fit what you are looking for. Levison Enterprises has the experience and knowledge to help you build your next product. Put Levison's expertise to work for you.
Levison Enterprises is your one-stop-shop, electronic assembly manufacturer. We have the experience to tackle your design AND provide turnkey electronic assembly. Plus, our ISO 9001 and AS9100 certifications tell you we have the highest possible commitment to quality. Contact Levison Enterprises today to see how we can assist you on your next PCB project.
Start Your Quote Now!