Features of Experienced Electronic Medical Device Manufacturers
The medical device industry evolves at a rapid-fire pace. It must quickly adapt to new clinical needs, and, as part of that process, respond to fluctuating manufacturing demands. It is not an easy balance and as a result, more original equipment manufacturers are relying on partnerships with electronic medical device manufacturers. Med-Tech companies need their electronic medical device manufacturers to solve manufacturing problems they cannot solve on their own. This means manufacturing partners need to offer advanced medical manufacturing capabilities that only experienced ECM's with the appropriate certifications can fulfill.
Part Obsolescence Management
Parts obsolescence is a big problem many electronic medical device manufacturers face. Often a component will no longer exist long before a medical device even rolls off the assembly line.
An experienced ECM will work to mitigate parts obsolescence and prevent issues before they are a problem. Forecasting the risk of components becoming obsolete will benefit your design in the long run. Tracking and managing the availability of parts with an experienced team will help keep your build on track. This gives ECMs time to either stock up on parts or redesign your medical device to accommodate a replacement part.
Engineers in House
On-site engineering makes hard-to-find components less of an issue with the ability to redesign on the fly. This means a team of troubleshooting experts are always on hand to spot errors in the medical device development process or mitigate obsolescence and step in before potential problems have a chance to cause major setbacks.
In-house engineers will continuously monitor your project in order to uncover issues that could delay your timeline, break your budget, or cause other issues that could impede your medical device's success. This engineering support will greatly improve the overall return on investment of your project.
Design Support and Collaboration
In medical device manufacturing, the companies that collaborate are the companies that get ahead. Partnering with an experienced electronic medical device manufacturer that can assist with design support and collaboration is a big bonus. It comes with perks including optimizing manufacturing and accelerating product development cycles.
Retrofitting and Reverse Engineering Capabilities
An experienced electronic medical device manufacturers' ability to retrofit and reverse engineer older technologies will prevent your electronic medical device from becoming outdated and obsolete. These processes can bring an old design of a successful product up to speed with modern counterparts and expectations.
Compliance Management
Medical device companies are up against strict regulatory compliance and quality assurance across the entire life cycle of a product. It is always a big help when your manufacturing partner can assist you with this. An experienced ECM certified in ISO 13485 can and will.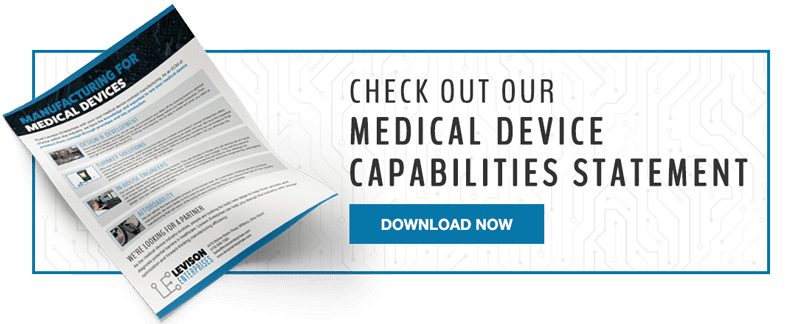 DFM Services
Top electronic medical device manufacturers typically find a design for manufacturability (DFM) analysis is a great way to determine if your design meets the requirements of manufacturing processes. It identifies potential manufacturing problems while they can still be fixed in the less-costly design phase of your medical device.
Do you have an experienced manufacturer that can provide all of this? Are they ready, willing, and able to take your groundbreaking idea from concept to customer?
Levison Enterprises is ready to help you change the face of healthcare.
Start Your Quote Now!
We are an experienced electronic medical device manufacturer with engineering, design, and manufacturing services that can help you accomplish your business goals. We have the staff, processes, certifications, and equipment already in place to help your company improve on your next project. Contact us today to get started.