Electronic Manufacturers: What Services Do They Provide?
There is never any shame in asking for help. This is especially true in the manufacturing field. An expert hand guiding your electronics can give your product a leg up on your competitors. Electronic Manufacturers exist to assist original equipment manufacturers with designing, testing, building, and distributing electronic components.
While the complete list of services provided by electronic manufacturing companies may vary, their focus is providing solutions to address clients' electronic needs, from product design and manufacturing through testing and shipping. This means you will want to look for some core services when searching for a company to partner with.
PCB Design and Troubleshooting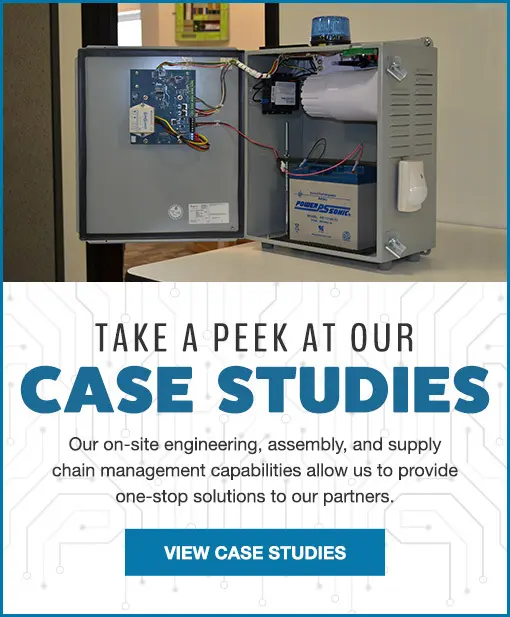 Design decisions you make for your electronic components have a huge impact on the operation and life of your final product. Do you want to leave this to chance? Outsourcing the design to electronic manufacturing companies gives you the advantage of their expertise and specialized skills in electronics. Your ECM will have industry-specific engineers on staff who can troubleshoot any problems that may arise during design and testing. This will ultimately save you time and money.
Rapid Prototyping & 3D Printing
If you are partnering with a ECM, you will definitely want to take advantage of prototyping services offered. This will give you a working model of your project to see if it will do exactly what you want and need it to do. Some electronic manufacturing companies take it a step further with cutting-edge technology and offer rapid prototyping along with 3D printing. This allows you to see multiple versions of your concept before committing to final production.
Cable & Wire Harness Assembly
When outsourcing your PCB assembly, you need to consider the cable and wire harness. This should include hand soldering cables and wire harness assembly. These assembly services should include round and flat cables, analog cables, wire harnesses, mechanical subassemblies, termination processing, and continuity testing.
Box Builds / Top-Level Assembly
Some electronic manufacturing companies offer advanced assembly options. This allows you to take advantage of a single-source electronic components manufacturer. A box build is a systems integration, which includes installation and routing of cabling or wire harnesses, and installation of sub-assemblies and components all put together in an enclosure. In addition to this, a top-level assembly option allows your design to evolve and change all the way through manufacturing. These services streamline to assembly processes, shorten shipping times, and reduce your costs.
Product Packaging
Your product packaging is not something to be overlooked. If you are spending way too much time and energy packing and shipping your product to customers, let your ECM do it for you. Taking this mundane task off your hands frees you up to begin developing your next big project.

Build To Print
Build to print is a handy service offered by top-notch electronic manufacturing companies. Your ECM will custom create your assemblies and boards by using your drawings and specifications. Your partner's engineers and designers will work tirelessly to breathe life into your concept from your specs. The final product will be checked and tested for total optimization before the final step of the production process begins.
As you can see, choosing the right ECM to partner with can be a big boost to your business. Levison Enterprises provides quality engineering and electronic assemblies for a wide variety of industries. We offer quick-turn prototypes, short production runs, and high-volume production, and keep current with the fast-paced and ever-changing nature of manufacturing technologies to bring the best electronics solutions to our customers. Let Levison bring your concepts to reality. Contact us today.