Medical Device Manufacturers are Redesigning Products to Mitigate Parts Obsolescence
Medical devices diagnose diseases and prolong life. They have come a long way since they were first introduced more than a century ago. And while technology allows for a continuous push for smaller and more powerful medical electronics, the real issue for aging medical devices is component obsolescence. The current medical device regulatory landscape is extremely sensitive to this risk. Thankfully, medical device manufacturers are redesigning medical devices to mitigate the risk of obsolescence.
Changing even the simplest of components within a device has to be done and documented in a way that demonstrates to the world that your product is still safe. This puts a lot of pressure on the medical device contract manufacturing industry. As a result, ECMs are scrambling to mitigate parts obsolescence before it becomes a problem in their projects.
Planning Ahead
Designing for the Future
When it comes to medical device contract manufacturing, it is best to plan now so you don't pay later. Parts obsolescence happens. But it does not need to shut down your project. Proper planning by an experienced ECM will avoid a crisis once a component is hard to procure. Proactive parts management by tracking and managing the availability of parts will help. In situations in which no substitute part exists, a redesign by on-site engineers is the only answer. Being able to forecast the risk of parts becoming obsolete can buy some time. Your ECM can stock up on components as soon as they determine a part may soon become hard to get and give engineers time to redesign the device without compromising quality and functionality.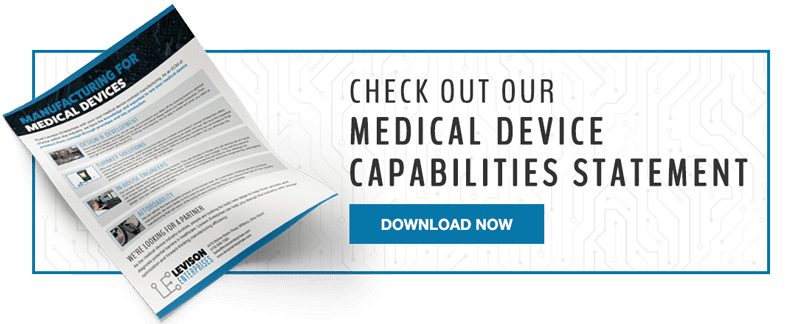 There will come a point where the legacy technology no longer exists, and the product needs to be redesigned. However, consumers are extremely happy with a legacy medical device. Engineers are challenged to design a product with the same form, fit, and function but utilizing the latest technology and current components. This is where reverse engineering skills are a perfect solution-and if your ECM has them in-house, your project is in good hands. Engineers can reverse engineer a legacy product by stripping it down to see just what makes it tick. They can determine exactly how it works and what makes it so successful. This makes it easier for them to update the medical device without significant changes in functionality, so it still satisfies consumers.

The Levison Difference
Medical device contract manufacturing does not have to mean reinventing the wheel. By planning for parts obsolescence with your ECM, you can sustain the lifecycle of your reliable and successful medical devices. Companies will greatly benefit from component tracking and engineers at the ready for a redesign.
Your legacy medical device can enjoy a long lifecycle when you work with the right manufacturing partner. Levison Enterprises works closely with its clients in order to mitigate parts obsolescence and make sure products are available for customers. Contact Levison today to see how we can help your medical device enjoy a long and prosperous shelf life.
Start Your Quote Now!