Choosing Onshore PCBA Has Many Advantages
Finding the right partner to build your PCBs can be a difficult decision. Circuit boards can be manufactured overseas as well as domestically. Many companies are drawn to overseas partnerships due to the lower cost projections, but in reality, choosing onshore PCBA has many advantages that far outweigh the benefits of offshore manufacturing.
The Importance of a Relationship with Your
ECM
Your ECM is a partner in your manufacturing process, and the developer and ECM partner need to have a relationship for the best possible outcome. Isolation between design and manufacturing can lead to significant problems that can be costly in the long term. Communicating in real-time with an offshore partner poses real challenges and can complicate the process. The assembly of your boards is a critical stage in your project that will directly control the success of your product. Having a strong relationship with your ECM is much more achievable when you opt for an onshore partner.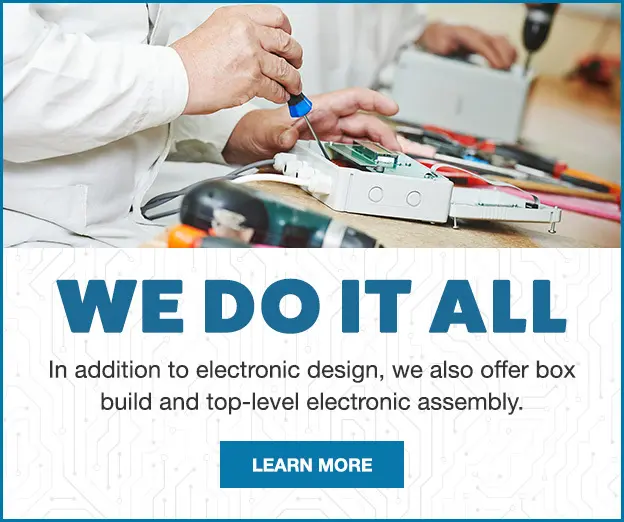 Potential Overseas PCBA Manufacturing Problems
The biggest drawback to choosing an overseas PCBA manufacturer comes from isolation between the design and manufacturing teams. When your partner is in a dramatically different time zone, it can compound other potential problems. Some of these problems include:
Time and language differences can make communication more difficult.
When communication is a struggle, design changes may not be properly understood and can become excessive.
Inability to Rapidly Institute Changes
Inefficiency of the process is one of the biggest drawbacks of an offshore PCBA. When changes are not implemented in a timely fashion, resources are wasted.
Offshore partners create long turnaround times that can cost your project time and money.
Many offshore standards will not meet the quality you expect or need for success.
These challenges will ultimately increase the cost of your project.

In addition, for certain industries, strict quality standards are in place. Accessibility and transparency are necessary to ensure that these devices meet and surpass the industry standards for usage. Using an overseas partner can be very risky. If there is a manufacturing problem, it may not be communicated in an effective way.
What You Can Expect from a Domestic PCBA
For effective real-time collaboration, fast design change response, fewer regulatory requirements, high transparency, and quick delivery, a domestic PCBA partner is the right choice. The capabilities of an onshore partner are heightened by the ease of communication. Your relationship will be strong, which, in turn, will strengthen the efficiency, quality, and cost-effectiveness of your project. Some of the other benefits of a domestic PCBA partnership include:
Transparency of Operations
Domestic PCBA partners will have the transparency necessary throughout the manufacturing process.
Having a partner that can provide a single point of contact minimizes the risk of error.
Appropriate Certifications for Highly Regulated Industries
You will have the confidence that your manufacturing will meet industry standards.
Assurance of a Secure Design and Protected Intellectual Property
Security is much stronger with a domestic PCBA partner.
Real time communication means a quick response to changes needed, as well as easier troubleshooting of the design.
Start Your Quote Now!
The manufacturing of your electronic components is a critical stage in the development of your end product. With a domestic PCBA partner, you will have a relationship that will be beneficial, transparent, and efficient. If you're looking for an ECM with extensive experience and high quality assurance, contact Levison Enterprises for a free quote.