Ask the Right Questions and You'll Find the Right ECM Partner
Before partnering with an electronic contract manufacturer (ECM), finding one that suits all your manufacturing needs is essential. While contract manufacturing companies might share some similarities, they are not equal. Avoid wasting valuable resources with a trial-and-error approach; instead, ask the right questions before hiring an ECM partner for your next PCB project.
Question #1: Do They Have the Capabilities In-House to Take Your Project from Design to Fulfillment?
It is paramount that you confirm a potential ECM partner possesses the expertise to handle the needs of your project from start to finish. Research and see how their capabilities and processes align with your project goals. If they lack up-to-date equipment, staff, or engineering experience, there's a greater chance that your projects will fall short of expectations or take longer than anticipated.
Are they domestic? Finding a domestic ECM partner who offers product fulfillment services, including direct shipping to the distributor will save you time and money. Transitions can be a pain point for many projects, with moving products to your consumer potentially being the most painful, where the cost due to delays and damages can become outrageous.
Question #2: Do They Offer Design Assistance?
Although you may already have your design in place, choosing an ECM partner with design services increases the likelihood that your design will be vetted by experienced engineers who can tweak your design for better manufacturability. Without those services, any potential issues during prototyping can cause significant delays once you are in the production phase of your project. Innovative design services can help you discover what you don't know.
Question #3: Do They Have Engineers On-Site?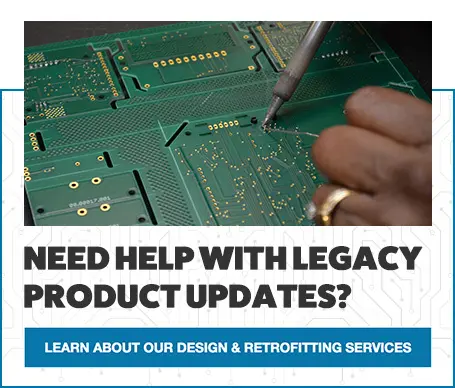 Having engineers on-site during the project ensures that any adjustments that need to be made to any components will be handled promptly. In-house engineers can track the quality standards throughout the manufacturing process. They can detect any issues and respond swiftly to correct anything that could compromise your product.
In short, having on-site engineers with troubleshooting capabilities shortens your time to market and prevents errors early in the manufacturing process, saving you time and money.
Question #4: Do They Hold Certifications Relevant to Your Needs?
There are several benefits to working with an electronic contract manufacturing service with quality certifications and processes in place. Quality certifications show that your electronic contract manufacturer continually works to improve themselves and their systems. Improved systems and methods can lead to better product quality and manufacturing efficiency. Certification also demonstrates a commitment to continuous improvement and regulatory standards.
Question #5: Do They Have a Vetted Supply Chain?
An ECM with a vetted supply chain is critical to manufacturing your components with the right parts without delay. This vetted supply chain helps with parts obsolescence, making you less likely to get counterfeit components. Counterfeit parts are not held to the same standard and have a high probability of failure. Any ECM you choose to partner with should have not only a vetted supplier network but also a mitigation plan in place to avoid any counterfeit parts.
Question #6: Do They Practice a DFM Approach to Supporting Your Product?
A process you want to look for with an ECM is a design for manufacturing approach. The right ECM partner understands that to reach your product's goals it must get through manufacturing. Your design may be attractive, possessing all the bells and whistles, but if it makes manufacturing difficult, or is too risky or costly, then it does you no good. Good design is simple and functional.
When vetting potential ECM partners, design for manufacturing should be discussed. As tempting as it might be to get hung up on flashy options or new techniques, seek out an ECM that understands your product needs to move it seamlessly through the manufacturing process.
Start Your Quote Now!
Why Choose Levison Enterprises?
Levison Enterprises is an electronic contract manufacturing partner. We invest heavily in training and certifications that demonstrate our value in quality, safety, and customer satisfaction.
Our team and project managers are highly skilled and committed to designing, producing, and distributing products that meet and exceed your needs by drawing on our collective expertise.
Because of our commitment to creating the best quality product for you, design for manufacturing is one of our top priorities. We would love to share how we can best serve you and your product as your electronics manufacturing partner. Contact Levison Enterprises for more information.