Are You Partnered with the Right Electronic Manufacturer for Your Military and Defense Device?
Finding military electronic manufacturers isn't easy, as these unique ECM partners must be able to prove their experience, capabilities, and ability to meet the specific certification needs and standards of these precise electronics. It takes experience, high standards, a vetted supplier network, and certifications to qualify.
The right military electronic manufacturer not only holds the correct certifications and experience, but they're also a domestic turnkey facility that's prepared to tackle a project from beginning to end and lend industry knowledge and support along the way.
When considering a partner, look for an ECM who is capable and certified to build products for the military. Extensive military and defense experience is important when producing superior military defense industry projects.
For a successful partnership, look for an ECM who has: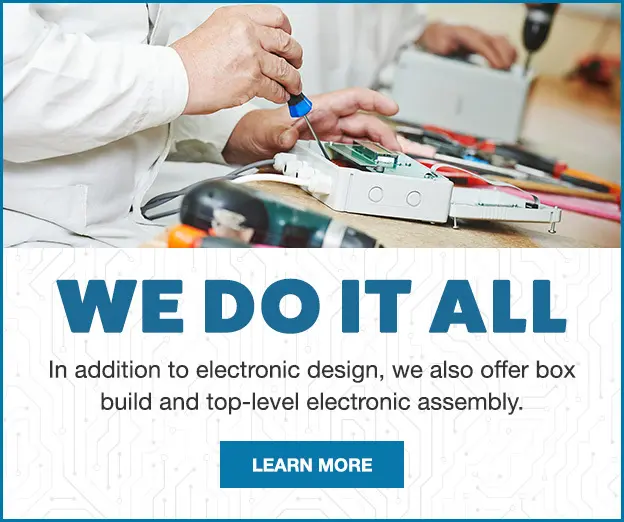 Having engineers on-site during the project ensures that any adjustments that need to be made to any components will be handled in a timely manner. Our in-house engineers can track the quality and military standards throughout every step of the manufacturing process. They're able to detect any issues and respond promptly to correct anything that could potentially compromise your end product.
A domestic military electronic manufacturer is imperative for military projects. Domestic ECMs will likely have the vetted supply chain needed for a defense project. The military has very specific requirements for suppliers, so an ECM with a vetted supply chain is more likely to have access to the right suppliers to meet the unique needs of the project.
Counterfeit Parts Mitigation
To meet the requirements and standards of the project, an ECM must have a plan in place for counterfeit component mitigation. Counterfeit components are always a concern but having vetted suppliers and a proactive plan in place will help lower the risk.
Testing and prototyping throughout the project ensures the quality of the final deliverable will be high. An ECM who deals with military and aerospace electronic components understands the demand for the highest quality in these applications.
Military electronic manufacturing must follow strict regulations, reliable security measures, and expected timelines. ECMs with military project experience already have trusted processes in place that will carry the project from design to delivery. A qualified turnkey ECM is prepared to handle the challenges and pitfalls that accompany military electronic contract manufacturing due to their experience and expertise in the field.
A domestic turnkey partner, or one who will oversee your project from design to delivery, is a great choice when building military devices. Having your project completed under one roof minimizes the chances of something getting missed, overlooked, or lost in communication during the project. The risk of human error is highest when the project passes from stage to stage, so keeping all of the stages in one facility drastically reduces this risk.
Outstanding Customer Service
The entire team at Levison Enterprises is passionate about our industry and is fully committed to delivering outstanding customer support and satisfaction. We're proud to serve the defense industry and see ourselves as a motivated partner who employs a team of experts ready to deliver a cost-efficient, quality product on time. When you partner with us, we become an extension of your team.
Choose Your ECM Partner Wisely
Finding a partner who is merely able to complete part of your project isn't enough. You need a domestic, turnkey ECM who is qualified to work with government projects and is prepared to handle the special requirements needed for military based electronic projects.
Start Your Quote Now!
Our vast knowledge and experience working on government projects in our turnkey facility makes Levison Enterprises the logical choice for your next build. Let's talk about it today.