9 Things to Consider When Choosing an Electronic Enclosure Manufacturer
The printed circuit board (PCB) is one of the most significant features of an electronic assembly. The PCB provides mechanical support and connectivity for electronic devices. PCBs come in many different configurations and materials, depending on the application. Some examples are rigid boards, rigid-flex boards, flexible circuits, aluminum core, and Teflon. The PCB type and quality affect the function of an electronic device, making it essential to choose the proper electronic contract manufacturer (ECM) to partner with.
Industry Experience
Choose a PCB manufacturer who provides the type of PCB you require. Not all PCB manufacturers are created equal. It's important to know your requirements align with the partner you choose. For example, you wouldn't hire a manufacturer that primarily does single-sided, double-sided, and low-layer count PCBs to produce a 24-layer backplane PCB.
Capabilities
Before choosing an ECM partner, ensure they have the proper capabilities to complete the job. Do they have the right equipment and staff for your product? Do they outsource some of the manufacturing to a third-party shop? Do they have experience in your industry? Are they capable of scaling with demand? These questions will help you determine if you've found the right ECM to partner with.
Certifications
Quality is everything when choosing a PCB manufacturer. You must first consider the manufacturer's Quality Management System (QMS). Depending on your requirements, you can expect your manufacturer to be ISO 9001 certified at a minimum. ISO certification signals that a basic QMS exists. Some examples include quality policy, quality manual, processes, procedures, work instruction, corrective and preventive actions, continuous improvement, and team member training.
Other factors to consider are manufacturing yield percentages at various processes and final yields to the customer, test yields, etc. This information should all be made available by the manufacturer for review. Other certifications to demonstrate competency include ISO 13485 (medical), AS9100 (Aerospace), IPC J-STD, A-600, and A-610.
Fulfillment Services
On-time delivery falls under the quality category in many cases. Ensure that the PCB manufacturer you select has a positive track record and can provide an accurate quote and lead time you can count on. The success of your time to market will depend on the accuracy of an ECM's quote.
Vetted Supply Network
Vetted suppliers are crucial to ensuring a quality product. If your ECM uses non-vetted suppliers, you risk parts being incorporated into your product that are low quality and possibly even counterfeit. An ECM with a network of vetted suppliers will help with parts procurement, ensuring that all parts have been tracked through an established supply-chain management process. With a vetted supply network, you know the parts are high quality and legitimate.
Design Services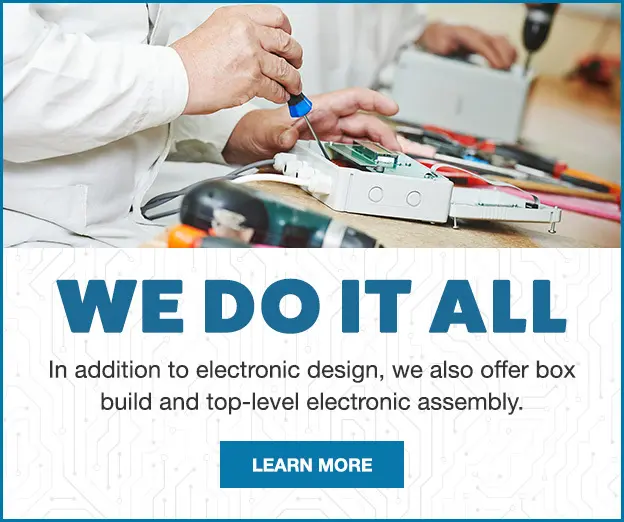 Choose an ECM partner offering a full array of engineering and design services. This can include PCB engineering services and PCB board design support. Look for one capable of a quick turnaround for time-sensitive projects. The PCB engineer on your project should know how to streamline even the most complicated design.
In-house Engineering Team
Having in-house engineers is advantageous for PCB design and manufacturing. An extra set of eyes on your printed circuit board design at various stages of the manufacturing process can help streamline the device and improve your ideas. In-house engineers are onsite to assist in mechanical, electronic, and software design from the start.
Prototyping
There are many advantages to using a PCB prototype in your design process. Although it may seem like you're adding a step to the process, prototyping serves an essential function, allowing you to save time and money overall.
Turnkey Shop
A turnkey shop is set up to meet every need of your project from design to fulfillment. Suppose you find an ECM partner who can take on multiple aspects of your build. In that case, your project won't lose a day during the transition between subcontractors, resulting in fewer time delays and other potential errors. Communication is simplified with a one-stop shop, too. Having one project manager for the entire build is also very efficient and can influence your timeline.
Prepare for Success
A PCB may seem like another commodity purchased by assembly houses, but your PCB is crucial for the optimal performance of any electronic device. You should never compromise on quality. Choose your ECM partner carefully, and do your due diligence. Finding the right ECM partner is an investment in your company. In the end, you'll discover that selecting the right partner is essential for an effective, reliable electronic device. Levison Enterprises is a domestic, turnkey ECM partner capable of building PCBs from design to delivery for a vast array of industries. Contact us today for a quote.
Start Your Quote Now!