Reverse Engineering Services
Bring your legacy project back to life with reverse engineering services from Levison Enterprises
When a legacy device or project goes down, often the original PCB or Gerber files might not be available. Reverse engineering services at Levison Enterprises are the solution to meld the old technology with the new and also aids in component obsolescence becoming less of a problem.
Retrofitting and Reverse Engineering Services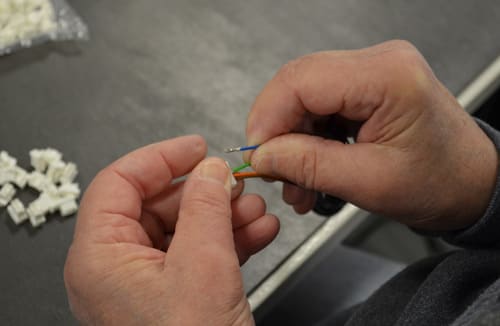 Component obsolescence and the rapid advancement of technology are among the biggest challenges for electronic device manufacturers. Widely used parts can't be manufactured quickly enough or may be unavailable. Designers and manufacturers need to find a way around component obsolescence, and seeking alternative parts is typically the solution. However, completely replacing a component is not always cost-effective. The solution is retrofitting or reverse engineering, which will allow older technology to adapt to newer specifications with widely available parts. Retrofitting and/or reverse engineering can help bring older technology up to date, help that technology meet new performance standards, and streamline older product designs to contemporary configurations.
Legacy Products
Why bother retrofitting old technology when you can develop new technology? Although the advances in technology are significant, many older products still fit within modern systems. In many cases, a legacy product will only require slight adjustments to stay functional. To save on costs and keep an existing product viable longer, reverse engineering or retrofitting is a great solution. An old design can be revitalized by a team of engineers who know how to work with an existing product and reverse engineer a new solution.
Complete Reverse Engineering Services
Reverse engineering services are more than simply determining the component needed to update a legacy product. Managing multiple vendors, suppliers, and subcontractors for your legacy products can create snags in your efficient workflow. Working with a turnkey facility that can provide complete reverse engineering services avoids this. Levison Enterprises can handle all of your electronic manufacturing needs, including reverse engineering, manufacturing, system testing, product packaging, and order fulfillment-all in-house. Levison Enterprises can handle the complexity of a retrofit order with reverse engineering components and take your project from plan to completion.
PCB Reverse Engineering to Make Your Product Stand Out
Printed circuit board (PCB) reverse engineering isn't always about obsolete components or legacy products. Reverse engineering can be used to study a competitor's product to help improve your own products. Innovation is required to stay ahead of the competition, and reverse engineering puts new eyes on your project to help develop additional ideas and push ingenuity and creativity. Making your product more efficient by reverse engineering PCBs is a valuable investment.
Electronic Reverse Engineering Services
Levison Enterprises can upgrade legacy components and systems, replace obsolete or outdated parts, and downsize existing designs to save money on raw materials and assembly. Legacy systems can retain their functionality through electronic reverse engineering services. This reduces the cost of developing a new product to replace the legacy product altogether and will prevent the assembly from being delayed due to part obsolescence.
The Levison team can retrofit an old design and enjoys the challenge of working backward from a completed product to the electronic components. Our engineers have extensive industry experience and the capabilities to troubleshoot electronic assemblies and PCBs to make your product work as you need it to. Let's set up some time to discuss improvements you'd like to see in your legacy product design.